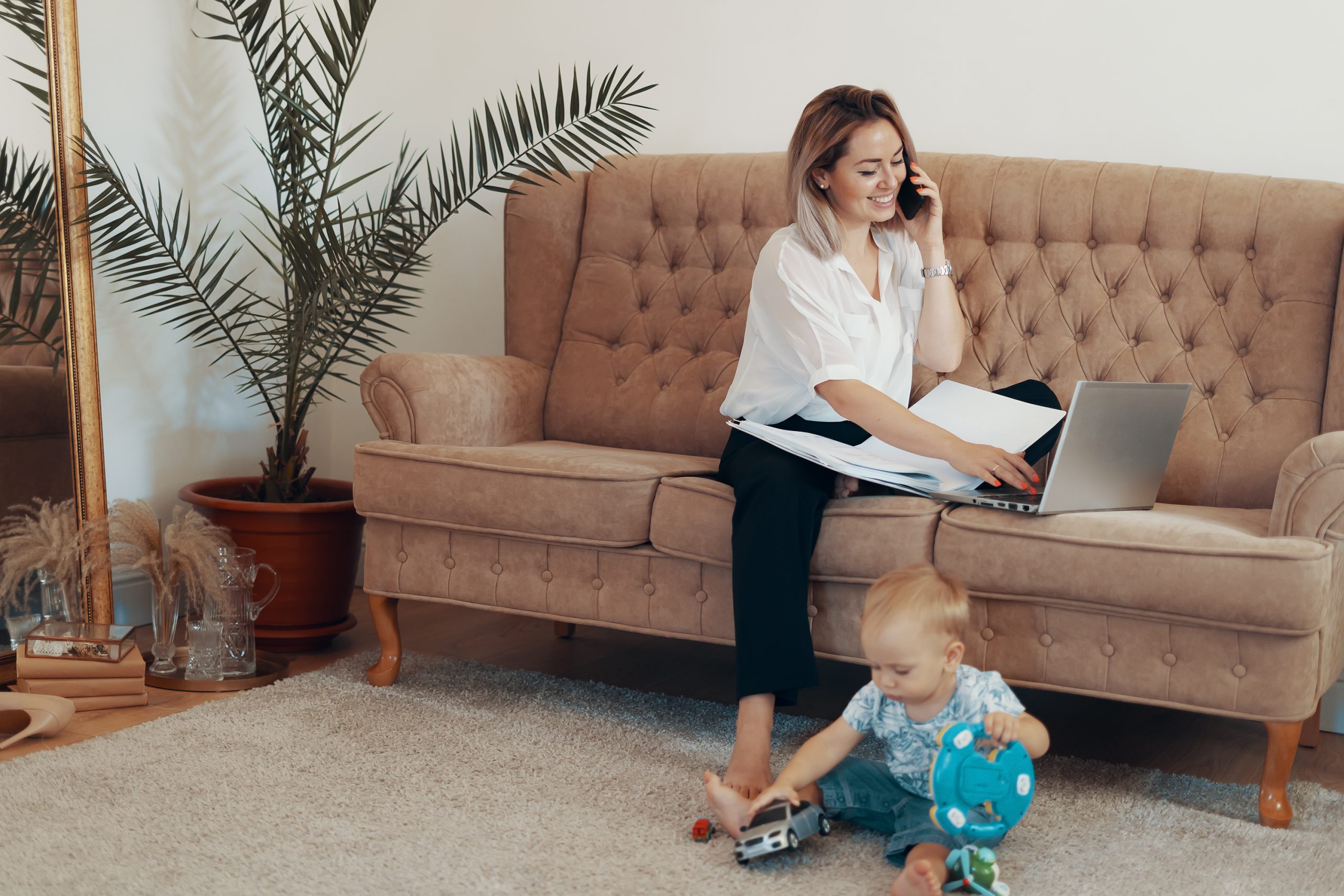 Cash Online, publication 06.04.2020
To work effectively and productively at home, you need the right basic equipment. Here, employers have an obligation to provide their employees with all necessary work equipment. Which employee needs a headset or even a multifunction printer in addition to a laptop or PC? What software is needed to create a smooth flow of communication? A review of the existing work processes provides clarity about the basic requirements that are already in place and the equipment that is missing.
The equipment needed in the home office mostly corresponds to the usual equipment of the workplace in the office. Besides the popular notebooks, additional monitors, keyboards and mice are also part of the classic home office equipment. Depending on the needs of the workers, it is also advisable to provide other output devices such as printers. Despite advancing digitization, many companies still cannot completely dispense with printed office materials.
Sometimes part of the team already has laptops instead of stationary PCs and can thus switch quickly and flexibly to working from home. In order to continue to be reachable by phone, many people in the home office rely on company cell phones and headsets – this way employers retain full cost control and employees do not have to use their private devices for company calls. For employees who now have to bring family and work life under one roof in a completely new way, noise-canceling headphones are recommended in order to be able to work more concentrated and without background noise.
All peripheral input devices such as keyboards, mice, trackpads or even graphics tablets and output devices such as printers and monitors must be inventoried as operational equipment. Of course, this also applies to home office equipment.
Data protection in the home office
The issue of data protection should not be neglected in the home office either. If possible, all important documents and materials, as well as the notebook, should be locked away at closing time and protected from prying eyes of family members. The statutory and company data protection provisions still apply. The basic requirement for working from home without any problems is an Internet broadband connection in order to be able to use all the necessary web applications. Without it, smooth video conferencing and zoom meetings are not possible. Likewise, a secure Internet connection via VPN should be available in order to be able to securely access the internal company network and required data from the home workplace as well. In addition, TSL encryption should be standard for secure e-mail traffic these days.
Organize the daily work with the necessary software
The sudden switch from the daily office routine to working from home is often difficult for some employees, especially if the home office principle is completely new to the company. The coffee break with colleagues between meetings or a quick chat in the hallway – the usual communication channels have to be adapted in the home office. Various tools and softwares help with this. Slack, Zoom, and Microsoft Teams, for example, make it easy to organize tasks and meetings within the team. When choosing, it is important to select the various software providers and tools with regard to your own operational requirements. Of course, these cannot replace social interaction and face-to-face exchanges at the coffee machine, but they do enable colleagues to work together efficiently despite distance.
Working in a home office? Not at the kitchen table!
In addition to the required hardware and software, the right furniture also plays a decisive role in the home office. While due to the rapid changeover caused by the Corona virus, many employees currently have to work at their home dining table or kitchen table, the home office should ideally be equipped with the right work furniture in compliance with occupational health and safety regulations.
The home office should – if possible – get its own room within the apartment or house. In this way, a spatial and psychological separation of work and private life can be made and provides a conclusion to the working day at the end of the day. At the same time, this minimizes distraction opportunities. If no separate room is available for working from home, care should still be taken to ensure that the workstation is not in the bedroom or at the kitchen table. A room divider can help here. Otherwise, a quiet corner in the living room is recommended.
An optimal workplace also includes a desk and an ergonomic chair in the home office. Height-adjustable chairs are mandatory for proper sitting position and back health, but an adjustable desk is also useful. If the desk is then positioned to the side of the window, optimum incidence of daylight is ensured without the light on the screen being too strongly reflected or incident.
Increased demand from IT providers and system houses
The rapid and increased shift to work-at-home solutions is leading to increased demand from a myriad of systems houses and IT solution providers that help businesses and employers obtain the technology they need. Electronics retailers and many telecommunications providers are also advertising special offers for home office solutions. At the same time, demand for refurbished and as-new used equipment is also on the rise. Although technologically already no longer up to date, many devices can still be used for the necessary work. Unfortunately, many suppliers are currently experiencing delivery bottlenecks and waiting times due to high demand.
Replacing office equipment with mobile and modern electronics also makes sense outside of times of crisis – regardless of whether employees are already working in a home office or not. The focus should always be on the performance of the equipment; even if older PCs and notebooks still do their job, they are more susceptible to damage and failure and ultimately cost a lot of time, nerves and money.
Always the latest technology: electronics leasing and rental
If new electronic equipment needs to be purchased, it quickly becomes expensive; modern technologies and efficient hardware have their price. More and more providers in the IT leasing and renting sector are offering tailored, liquidity-preserving solutions for equipping companies of various sizes with the electronic equipment they need. This allows companies to ensure that outdated IT is replaced on a regular basis. Providers such as Grover or Black Rental have a wide range of mobile and stationary electronic equipment that can be rented for a period of time if needed.
Optimal insurance cover for home office equipment
However, constant technical progress is outpacing the state of many electronic devices, making laptops, telephone systems and other electronics susceptible to damage that often results in high repair or replacement costs. The workplace at home in particular is a source of danger – whether it's the overturned coffee cup or the stormy dog that pulls the new laptop, complete with monitor, off the makeshift desk in delight at having a master in the house. Comprehensive electronics insurance protects both employees and employers from the financial consequences of a loss.
Flexible insurance package for leasing and renting providers
The Rostock-based InsurTech hepster already works with established providers in the IT leasing and rental sectors and has integrated its high-performance electronics insurance into the offerings of the system house my Workplace and the electronics rental service of Black Rental, among others.
As a leasing provider, my Workplace (store.the-workplace.de) offers not only individual electronic devices, but also fully-fledged Workplace as a Service solutions within the scope of a leasing contract, in order to comprehensively equip companies with the IT they need. The insurance coverage of hepster is included for every leased laptop from The Workplace and secures the commercial use of the laptop during the entire leasing period.
hepster not only offers its cooperation partners in the leasing industry a flexible insurance package that protects a wide range of electronic equipment. A distinction is made here between mobile electronic devices, stationary electronics and large electronic devices. Leasing and renting providers are thus protected from the high costs of repair or replacement resulting from damage, destruction or – optionally – theft. Among other things, fall, breakage, fire and liquid damage as well as damage caused by operating errors or electrical short circuits are covered. This allows IT service providers to expand services for customers and integrate insurance as an additional offering at no extra cost.
In addition to traditional leasing, electronic equipment for the home office and office can also be rented through providers such as Black Rental (www.blackrental.de). Particularly in the current situation, IT renting has a number of advantages, as the term for the required home office electronics can be arranged more flexibly than with a leasing contract. Thus, Black Rental enables its residential and commercial customers to rent both mobile and stationary electronics for a fixed period of time. The hepster electronics insurance including theft protection can be optionally booked for cell phones and tablets, but also for other devices such as laptops, PCs, beamers and printers.
Home office as a sustainable work model?
The Corona crisis currently has Germany firmly in its grip. Despite the major economic and social challenge, the crisis also holds the opportunity to influence the work culture in the long term and to accelerate digitization in German companies. The home office can play its sustainable part.
Home offices can lead to increased employee productivity and satisfaction. The feeling of free time management and home environment can thus have positive effects. At the same time, companies already have to ask themselves how to proceed after the Corona crisis – should all employees move their regular workplace back to the office or will the home office establish itself in the long term and sustainably?